Meet Dr. Gina Agostino-Manes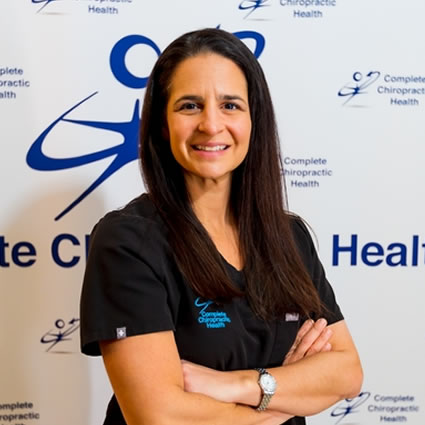 At the age of 12, Dr. Gina hurt her neck during a cheerleading accident. She experienced such severe pain that she couldn't move. Her mother took her to the chiropractor and after a month of treatment, Dr. Gina was completely pain-free. Not only did she feel so much better overall but noticed that her general health improved too.
"I used to get sick all of the time and had sinus problems. As a result, I missed a lot of school." However, once Dr. Gina started getting adjusted on a maintenance/wellness basis, she went from being a sickly kid to a healthy teenager.
Chiropractic Education
After earning a Bachelor of Science in Nutrition Science from Penn State University in 2002, Dr. Gina enrolled at Palmer College of Chiropractic. She chose Palmer as that's where the chiropractor who helped her went. Dr. Gina excelled in her classes and particularly enjoyed the anatomy and physiology classes. A highlight of her time there was doing a clinic abroad in India. While there, Dr. Gina was able to adjust thousands of people.
She graduated with her Doctor of Chiropractic in February 2006.
Returning to the Burgh
As Dr. Gina grew up in Pittsburgh she knew she always wanted to come back to the city. Dr. Tony, who moved around when younger and primarily lived in Nebraska, suggested that she start looking around to find a place to start their practice. "I knew that Cranberry Township was an awesome area so I started to look for a place where we could start our first practice."
She found a small home that was set up as a chiropractic clinic. She and Dr. Tony opened up Complete Chiropractic Health in June 2006. They practiced in that 1,200-square-foot space for eight years and then moved into a 6,500 square-foot office which allows them to accommodate more patients.
Helping People Naturally
What Dr. Gina enjoys most about being a chiropractor is helping people not only get out of pain but have a stronger immune system and enjoy better overall health-without medication or surgery.
Whether I'm helping an entire family, keeping people from needing surgery or helping a child avoid getting ear tubes it's fulfilling to make an impact on patients.
While Dr. Gina does an excellent job of relieving her patients' pain she is most passionate about seeing them return to maintenance care so they can enjoy optimal mobility and health.
EXPLORE CHIROPRACTIC
Outside the Practice
When she's not caring for patients, Dr. Gina enjoys spending time with her two young children Mia and Geano and Dr. Tony, whom she married in 2007. The family loves to travel and particularly enjoys spending a week each year in Avalon, New Jersey with her family and parents, as well as visiting Florida. Dr. Gina also enjoys hanging out with friends and working out five days a week. She also likes to relax.
Their dog Husker (named after the Nebraska Cornhuskers) rounds out their family.
Book an Appointment
Contact us today to schedule an appointment with Dr. Gina!

Dr. Gina Agostino-Manes | Complete Chiropractic Health