Meet Dr. Eric McCandless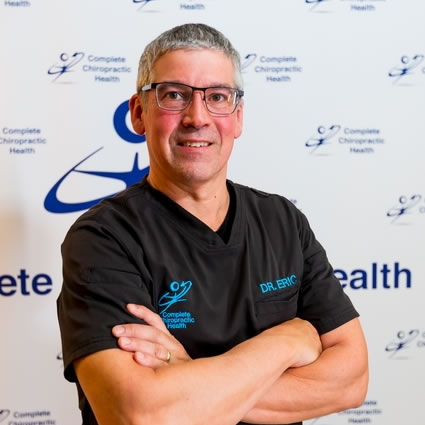 Dr. Eric has been under chiropractic care since 13 when he sustained an injury in his middle back. That chiropractor's care allowed Dr. Eric to play football through high school and college. and sparked his interest in chiropractic.
From when I first got adjusted as a kid I knew I wanted to do something in the healthcare profession and chiropractic seemed to be the best fit for me.
Chiropractic Education & Techniques
After earning his Bachelor of Science in Accounting from Westminster College in Pennsylvania, Dr. Eric moved to Austin to do his science prerequisites. He then attended Parker College in Dallas, earning his Doctor of Chiropractic in 1996. He chose Parker because the chiropractor he was seeing when he lived in Austin thought it was a great school. For Dr. Eric, it proved to be a good fit.
At Complete Chiropractic Health, Dr. Eric mainly uses the Gonstead Technique but is also proficient in Diversified and Activator Methods®.
Putting Patients First
Dr. Eric enjoys interacting with his patients and putting them first. He always makes sure that his patients get the care they need to be able to be healthy and perform at their best. "I want them to feel better, live a better life and just be able to do what they need to each day."
EXPLORE CHIROPRACTIC
Outside the Office
When he's not working, Dr. Eric enjoys spending time with his family. He and his wife have been married since 1990 and have three beautiful adult children who are all employed, happy and doing well!
Dr. Eric wants to remain active for the next 30-40 years so he can be there for his wife, children and future grandchildren.
Book an Appointment
Contact our Cranberry Township practice today to schedule an appointment with Dr. Eric!

Dr. Eric McCandless | Complete Chiropractic Health