About Complete Chiropractic Health
Welcome to our office! When you visit us, we greet you by name with a smile on our face. We're happy to see you and to know you trust us to do our best for your health.
With the largest office in the area, we make every effort to see that you're comfortable, feel safe and enjoy coming to see us. We're excited to see you!
Our Mission
At Complete Chiropractic Health, our mission is to change the health of our community with regular chiropractic wellness care. Giving our community freedom from pain and dysfunction, allows them to enjoy life to its fullest.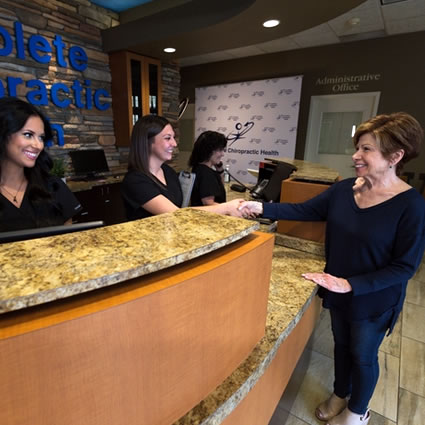 Bringing Natural Health to Cranberry Township
Dr. Tony decided to open his practice in the area after graduating from Palmer because of his wife's family ties. He loves being in such an active, vibrant and diverse community. He is passionate about introducing chiropractic to everyone in the community.
His ideal scenario is for chiropractic to become the #1 health choice for all; traditional medicine would be #2. Medications should be the last resort, not the first choice.
Reaching Out to Our Community
While many know Complete Chiropractic Health for our charitable contributions, our goal is for everyone to experience chiropractic and what it can do for them. We're consistent about what we say and want to deliver to our community.
A Hands-on Approach
Practicing in the community for over 15 years, we're invested in you. We hear you and what your problem is but let's look at how it's affecting your function. Are there activities you can no longer participate in? Is your sleep affected? The more we know about what's going on, the better we can treat the issue.
Did you know the #1 reason for visits to emergency rooms is back pain? Chiropractic has the highest success rate with that; better than physical therapy or traditional medicine. And it's drug-free!
Many of our patients are surprised at all the benefits of chiropractic. When our patients understand what it really is, they naturally gravitate to it.
MEET THE DOCTORS
Can You Help Me?
Chiropractic adjustments have been proven safe and effective for everyone, from newborn to Grandpa! Above all, we care about you and your overall health. Chiropractic can impact you in ways you would never imagine.
Our patients often come to us with one problem and experience improvement with issues they didn't know they had.
Questions? We Have Answers!
Patient satisfaction is important to us. You're welcome to bring your questions or concerns to any member of our staff. Contact us for an appointment; we're looking forward to your visit!

About Complete Chiropractic Health | (724) 779-0001