Meet Dr. Siobhan McDonagh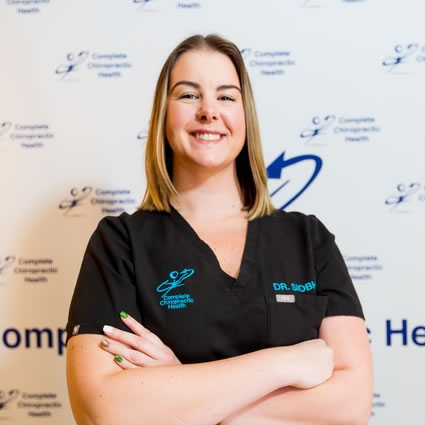 Dr. Siobhan's introduction to chiropractic was when she was starting college. She was supposed to be playing basketball but couldn't as she was dizzy all the time. "I went to every doctor I could think of and no one could figure out what was wrong." Dr. Siobhan was put on various medications but they didn't work. One day, her mother suggested they see a chiropractor.
Dr. Siobhan was more than willing to go as she just wanted the dizziness to go away. The chiropractor determined that her neck needed to get adjusted. It became misaligned after she had her wisdom teeth removed. After getting relief Dr. Siobhan thought, "If I can help people doing this as much as it's helped me it will all be worth it."
Chiropractic Education
Dr. Siobhan attended New York Chiropractic College. Once she got to the clinical part of her education Dr. Siobhan enjoyed working with patients and seeing how chiropractic can help pregnant women, kids and entire families. She graduated in 2015 with her Doctor of Chiropractic. Through her years as a chiropractor, she has developed more of a sense of the incredible power of the nervous system.
A Passion for Helping Kids
I love working with kids and getting them feeling their best and growing their best.
She is Webster Technique certified and has done significant pediatric chiropractic training with the International Chiropractic Pediatric Association (ICPA). Dr. Siobhan also attended the AutismOne Chiropractic Conference.
EXPLORE CHIROPRACTIC
Joining Our Wellness Team
Dr. Siobhan moved to Pittsburgh in October 2019. One of the reasons why she chose to join the Complete Chiropractic Health team is because of our focus on wellness. "When I first talked with Dr. Tony, he said, 'Chiropractic isn't just getting people out of pain but keeping them healthy.'" She finds it fulfilling to see our patients leaving happier and healthier as a result of our natural care.
Family and Interests
While Dr. Siobhan is in the Burgh, her family is all in Boston. Her father hails from Ireland and her mother is from Pennsylvania. She also has a younger sister. The family lived in Ireland for a time when Dr. Siobhan was in high school.
When she's not working, Dr. Siobhan loves to read, eat delicious food and try new restaurants. She also loves to travel-when that's possible.
Book an Appointment
Caring, attentive and good-natured, Dr. Siobhan wants you to know that she will try to help you one way or another! Contact us today to schedule an appointment!

Dr. Siobhan McDonagh | Complete Chiropractic Health